Children inherit the world. They are the future, our greatest hope.
They are seers and soothsayers, with a clarity of mind, an innocence, that might make anything possible.
The moon is made of cheese? Why not. Can we fly there? Of course, when we are ready.
_
A few footy seasons back I wrote a series of fan profiles published on the Richmond Football Club website. It was an exercise in community-building. Telling a story from the ground-up, one fan at a time.
Every football fan has a story, about the game, their club, and how it entwines with their life. It doesn't really matter how passionate you are – there is no heart-fold test for such things – nor how long you've been a supporter.
The main thing is inclusion, and a sense of belonging.
In little ways, each week, it's what these fan stories tried to do.
_
This season is one like no other. Winter beckons with no football. When it returns, as it must, it will be crowdless, which is something less than half the game. Can our heart really be in it without a crowd, without us?
Partly to fill this void, a space the game occupies in our minds, I'm pleased to revisit 10 of these profiles. Week-by-week, I'll select the ones that resonated most with me, for whatever reasons. Maybe look the fans up again, tell a story behind the story.
There is no 'best' really, they all had meaning for me, but maybe these are the ones I might remember fondly for the rest of my days.
First up, Monty!
Why? Because in the eyes of a child there is clarity. Because as the regular season came to a close in 2017, he foresaw what would happen. He tipped it! He told me – us – Richmond would play Adelaide in the Grand Final before a finals game had even be played!
Then he went and made a banner saying we would be premiers!
He BELIEVED what most of us could only dare to dream.
This is the gift of a child. They are unencumbered by the weight of history. A 'premiership drought' meant nothing to him.
Where is he now? Home schooling, of course. Doing grade 3.
What does he like about home schooling? "You don't have to be at school on time," he tells his mum, who emails me. "You can go bike riding at recess and lunch. You can eat whatever you want."
Are there any drawbacks, Monty?"I miss my friends a lot," he says. "I miss talking to them and playing games with them. And my mum shouts sometimes because we are being silly and not doing our work at home."
(Note to mum: as a home-supervising dad, I have just now raised my voice with a 6-year-old, a little refusenik).
Monty's mum is an architect who has remade herself into an artist. I like this. A reinvention, a renewal. We can all learn from this. Every footballer is only a footballer when they are playing the game, then they become something else. And each of us anyway, have different parts to our lives.
Monty and his mum made art the other day, part of the home-schooling process. He painted a love heart. It was an exercise in which he had to express how he feels about his favourite piece of music.
And what was it? Clue, it begins:
Oh, we're from Tigerland…
**
Oh we're from Tigerland: Monty Anderson
Monty Anderson, five years old, wide-eyed, alive to all the game's possibilities, just might be the future of the Richmond Football Club. If so, it's future burns bright.
Monty Anderson, 5, Prahran Junior Football Club
Favourite Richmond player
Jack Riewoldt – "He's a good kicker. He can kick fifty metres."
Monty (on his older brother): "He's more a dinosaur and animal person."
Campbell (on Monty): "He's definitely a sportsman. He wants to be a Richmond footballer. We have a million balls outside."
Welcome to the wonderful world of five-year-old Monty Anderson. He barracks for Richmond. Loves the game. Has Richmond player cards arranged carefully on the first sleeve of his footy book. Knows all their numbers. Jack is his favourite. Then Sam Lloyd and Alex Rance.
"Number eighteen. Fullbackman".
Monty's off to the game this Sunday and is sure they'll win.
Life's nearly perfect. But there is the pesky problem of his older brother. That's Campbell. He's seven years old, in grade two, is missing his two front teeth, and is sometimes a bit annoying. It's not that he doesn't share his toys. He does that. The problem is he goes for Hawthorn. Yes, Hawthorn. Why, Campbell, why?
"Because they won three premierships in a row."
Oh, Mister Monty, our flaxen-haired future, our great hope, how glorious it must be to be five years old at the football, with those big brown eyes of yours, sitting with mum or dad, enthralled by the size of it all, an open book of curiosity, and blessedly so unknowing of all the emotional scars to have beset so many Richmond supporters.
Through a child's eyes, anything is possible. Santa Claus, the tooth fairy, a Richmond premiership…

Beyond bedtime: Monty and Campbell and their friend Will at the Anzac Eve night game against Melbourne.
I meet with Monty and his brother – and their parents, Cressida and Dave – on Saturday morning after Auskick to talk football and Richmond. It is, in Monty's words, a simple story: "In Sydney, we supported the Sydney Swans, but when we came to Melbourne, Campbell supported the Hawks and I supported Richmond and mummy and daddy still supported Swans."
His parents elaborate.
Two-and-a-bit years ago, Cress and Dave moved from Sydney to Melbourne for work, and soon after they learnt of 'footy colours day' at their local primary school. Dave, a burly Scotsman raised on a dairy farm halfway between Dundee and Aberdeen, and a former rugby union second-rower, suggested their eldest boy wear his Waratahs top. Cress thought otherwise.
"We're in Melbourne now," she says. "I didn't want him ostracised just yet."
So, lunchtime in a new city and Dave's life depended on sourcing a Swans top for a five-year-old. Cress is a native Sydneysider. That'd be their team. The matter was solved. All he needed was a Sydney top. In Melbourne.
Two sports stores later, he found the goods. "I bought one for Campbell," he says. "But I couldn't buy for one boy and not the other, and the shop assistant upsold me, so I left with two Swans tops and two Swans shorts and two pairs of Swans socks, and a ball each."
Both boys left home the following morning in gleaming red-and-white, socks pulled knee-high. A proud father returned from work that night, keen to find out how it went.
"'Oh, it was good daddy', replied Campbell, 'but I actually support the Hawks, and Monty said, 'daddy, I support Richmond'."
Turns out Monty had already chosen his team. A child's elastic mind, it knows what it wants.
"He'd been doing a lot of research in the post office with the songs," says his mum, Cress.
While she was posting mail, a little Monty sampled all the football-themed merchandise at arm's reach. Footy books, greeting cards, flags, and a toy tiger with a button any curious child would press. Press it he did, and out rang a chorus: "Oh, we're from Tigerland…."
"I loved the song," explains Monty. Who could blame him?
Two seasons later and young boy's wonder has not dimmed, and it wavered not once last year despite his team's indifferent performances ("he re-watched the last bit of the Swannies-Richmond game every morning before kindergarten"). He's been to four games already this season, for three wins and the narrow Swans loss.
"That was the game you burst into tears and we had to carry you home," says his dad.
"That was the day mummy switched her team," says his brother.
"I did feel his pain that day so I got behind him and cheered for Richmond," says his mum.
One game of football, all three of them barracked for Monty.

Football family: mum, Monty, Campbell and dad at the Richmond v Swans game earlier this year.
Because they adore his bright-eyed enthusiasm, but also because he's Richmond, so his is a passion as mysterious as childhood itself. He puts on his colours after school most afternoons and kicks a football the length of their backyard. Right foot. But he's practicing also on his left.
"I'm practicing closing my eyes and trying to kick a goal," he adds.
I ask each of them what they might like to be when they grow up.
Campbell answers, wistfully: "At school we do this thing where you write down all the things, and you have questions, and the bottom question was what do you want to be when you grow up and I wrote down 'zoo keeper'".
Monty's reply: "A Richmond player".
His second career choice, should this whole football thing not work out?
"Painting the field," he says.
He's thought about it, being the person who chalks the lines – the centre square, boundary, goal square, 50m arcs – and thinks it'd be awesome. He's already in training. His Texta football drawings include one shaped as an oval with all the lines marked on it, and black dots peppering the grass.
"All those dots are the studs," he explains.
His family suggest we turn a large square of carpet in the living room upside down to see more of his handiwork. He's laid-out the lines of a rugby field using electrical tape.
"It changes all the time," says his mum. "It's been a tennis field, a soccer pitch, an AFL ground. It's what Monty does."
His father adds: "Every time I go to the hardware store I have to stock-up on electrical tape."

Monty's field of dreams: "All those dots are studs".
This is the magical mind of little Monty Anderson, a boy who goes to bed each night in a sports top, sometimes two – choosing between Richmond, Lionel Messi, the Waratahs, Scotland's rugby team, the Lions – dreams wonderful dreams, of Richmond playing Adelaide in the Grand Final this year, and winning. If it comes true he thinks he'll take a day off school.
Make it so, Monty. But first, the game this weekend and a win over your big brother's team would be nice.
Go Tigers! And go Monty!
PS. The second sleeve of Monty's footy book is filled with St Kilda cards. Why? "Because Jack Riewoldt's cousin plays there, Nick Riewoldt."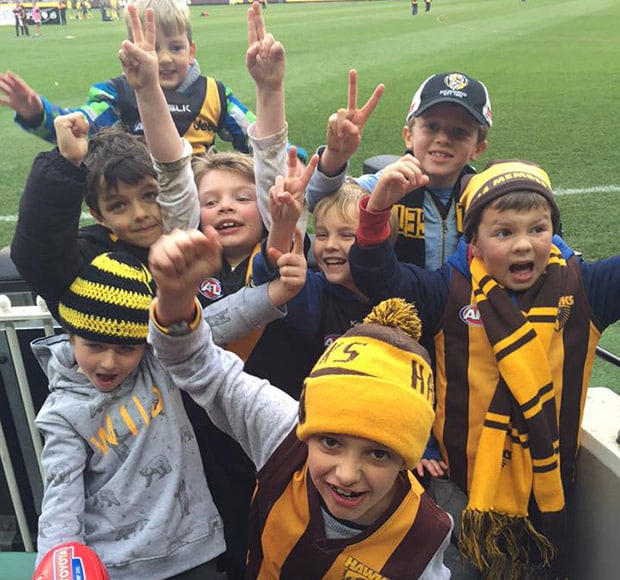 Monty our mascot: sitting on the fence with friends at the Richmond v Hawthorn fixture last year.